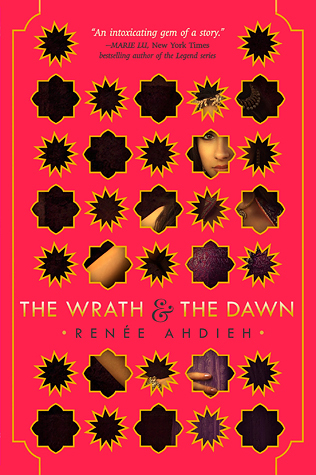 I met Renee Ahdieh at our annual YA Fan Frenzy put on by Andersons Bookstore nearby.
She was a genuine sweet person. I had been told my a few people to read it, so I bought it and had it signed. I mean if, multiple people tell you to read something, usually it is good, right?
So I put it on my shelf to read and waited. And that poor book kept waiting. Then my hometown's Lit Fest posted guest speakers and it was none other than Renee Ahdieh again. Well, that should tell me to read it, right? But alas, I let other books push their way to the front of the TBR pile.
So, I finally got tired of waiting, and started it. And wow, am I glad I did!
And I went last Friday night to see Renee speak at our Lit Fest. I have attached a picture of her speaking. Yep that back is me and my two lovely little girls with me. I want them to meet authors when they are able to and explore the many amazing worlds that these gifted people write about and share with us. In the car home, I was told that she was lovely and that when they get old enough, they would like to read the book too as it seemed right up their alleys.
So thank you Renee Ahdieh for sharing this amazing book with the world - it is a true gem!
MY REVIEW:
I have had the immense pleasure of meeting this author twice now and each time I have, I find her to be the most genuine and thoughtful person. She is so incredibly amazing to talk to and listen to speak. Her passion for her books is one that is felt just by hearing her and her love of her family and it's diverse ways, is one that should be modeled.
I was told by numerous people that I would love this book. And I have to say that the names took a bit to keep straight. But once I did, what an amazing story this is. I am eagerly awaiting the next installment this spring.
Renee has a way of bringing the palace and characters in this story to life that is not an easy feat, honestly. Many strive to be able to describe an scene with such amazing details as she does, but they are not as successful as Renee. She envelopes you in the sights and sounds of this fantastical land.
The struggle between the characters is real and is palpable. They each have their own backstory that is ever so important to this main story and they all need to be told. Their relationships are all complicated and yet at the root, are very sincere and simple.
I gave this one a 5 star rating. I felt that it was that well written and well developed. I felt that author brought you in for a ride throughout an amazing journey and left you wanting to continue on in the next book. (Also, when a girl who gets car sick related to just the temperature brings this book with her on a trip downtown on the chance we may get stuck in traffic and she could read a few pages. that signals an excellent book!!)